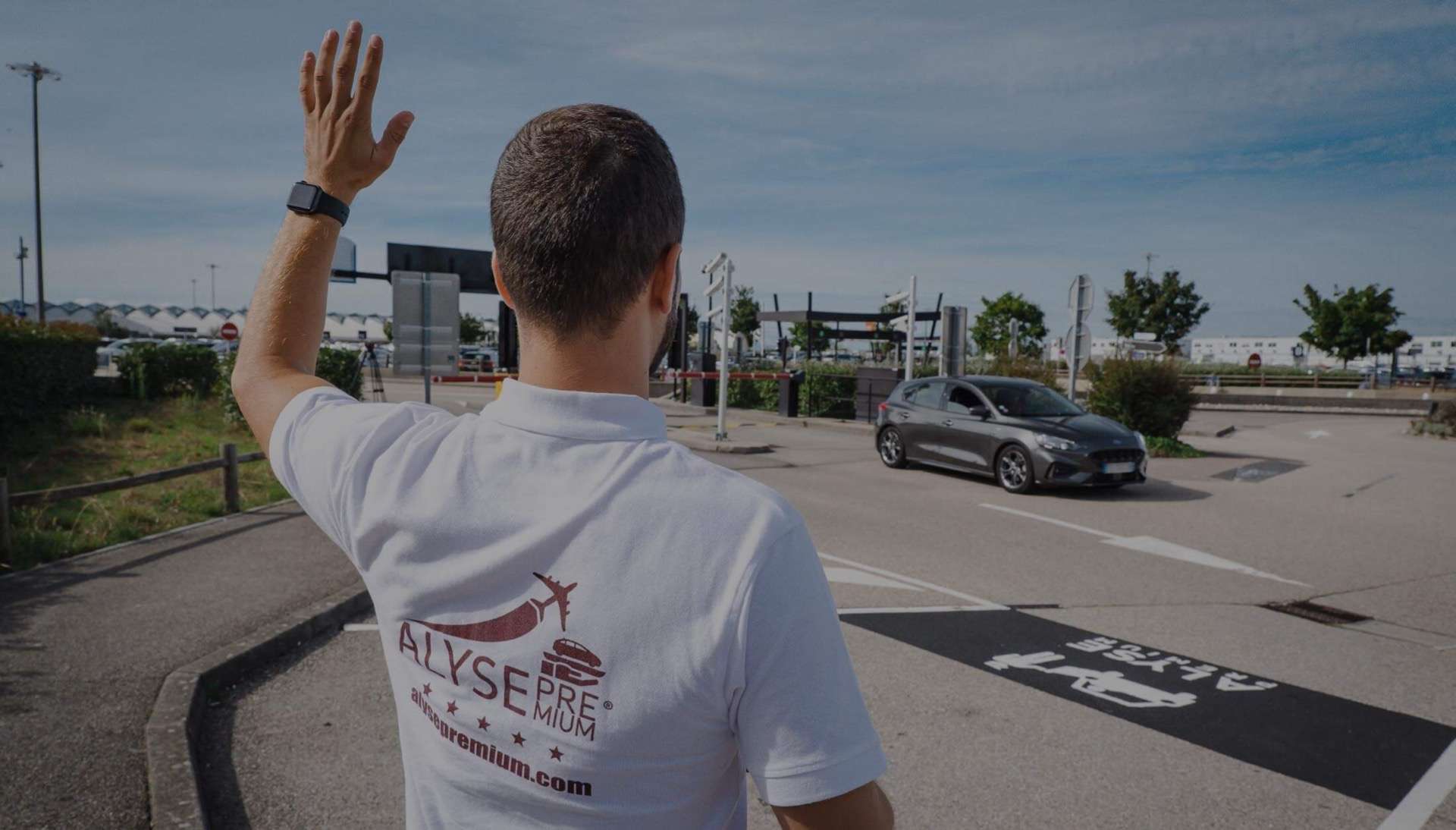 Alyse Premium Valet Service


Lyon Airport

At the airport, simply leave your vehicle with our partner, Alyse Premium, who will park the car for you ! A single meeting point for both drop-off and pick-up !
Only available by booking online

Alyse Premium: your valet parking service at Lyon-Saint Exupéry Airport
The convenient option ? On your arrival at Lyon-Saint Exupéry Airport, go directly to your terminal's drop-off area and leave your vehicle with your Alyse Premium valet.

Your vehicle will be parked in a secure car park and taken care of by a devoted team. A full inventory of the vehicle's condition is carried out via an automatic scanner, for optimum quality of service.
Alyse Premium Customer Service number : +33(0)4 72 22 41 16. Customer Service is open Monday to Friday from 9 am to 5 pm.
Benefits of the Alyse Premium valet service
1
Fast
Book, drop off, take off ! The Alyse Premium valet service saves you valuable time.
2
Best money-for-value
Les tarifs proposés sont compétitifs, et vous ne payez pas de supplément en cas de retard de vol ou de train.
3
Safety
Automated inventory (700 photos) and your vehicle is parked in a car park under surveillance.
4
Additional service
Alyse Premium can wash or service your vehicle, or carry out a roadworthiness inspection while you are away.
How to use the valet service ?
1) Search for a valet service online
Go to the booking page for Lyon Airport's official car parks. Enter your car park entry and exit dates, and run the search to obtain the rates for the valet service.
Please note that this service may be booked at the earliest 9 months before your flight departure date and up to 12 hours prior to departure.
2) Receive your booking coupon by email
After paying for your booking, you will receive a booking coupon by email, to be scanned when you arrive at the drop-off area. You will also receive confirmation by SMS the day before or on the morning of your flight specifying the contact details of your Alyse Premium valet.
3) Take advantage of a quality service on your day of departure
On your arrival at the airport, follow the signs to your terminal's drop-off area. We recommend calling your valet 20 minutes before your arrival. At the entrance to the drop-off area, scan the booking coupon you received by email. Then go directly to your Alyse Premium valet who will take care of your vehicle. Innovation: your vehicle will then pass through an automated scanner to carry out a precise inventory of its condition (700 photos).
Your valet will then park your vehicle in one of the airport's official car parks or in a nearby car park belonging to Alyse Premium.
The day before you are due back, or that morning, you will receive another SMS with the contact details of your Alyse Premium valet, who will be waiting for you with your vehicle at your terminal's drop-off area. Together you will check that your vehicle is in good condition, then you simply leave the drop-off area by scanning your booking coupon at the exit terminal.
Discover all car parks
Select your car park and book your space online.