Official
Electric P4 car park
Outdoor car park, located in front of the train station
This car park allows you to reload your electric vehicle
Recommended for 0 to 3 days of parking
Only available for booking
Practical information on electric P4 car park
At the airport, take advantage of our electric car park to recharge your electric vehicle! Lyon Airport's official P4 Electric car park is located in front of the TGV station, for quick and direct access to the platform of your train. The airport terminals are within walking distance.
The car park is recommended for 0 to 3 days of parking.
Online booking is required to access this car park.
Outside car park (height limited to 2.50 m), located in front of the train station
Electric car park. The use of the chargers requires an adapter brought by you.
If you own a Tesla: Be sure to set the charge current to the minimum to ensure the proper operation of the service
Surveillance service operational 24/7
Luggage trolleys available, can be used with a token or €1 coin
Location of Lyon Airport car parks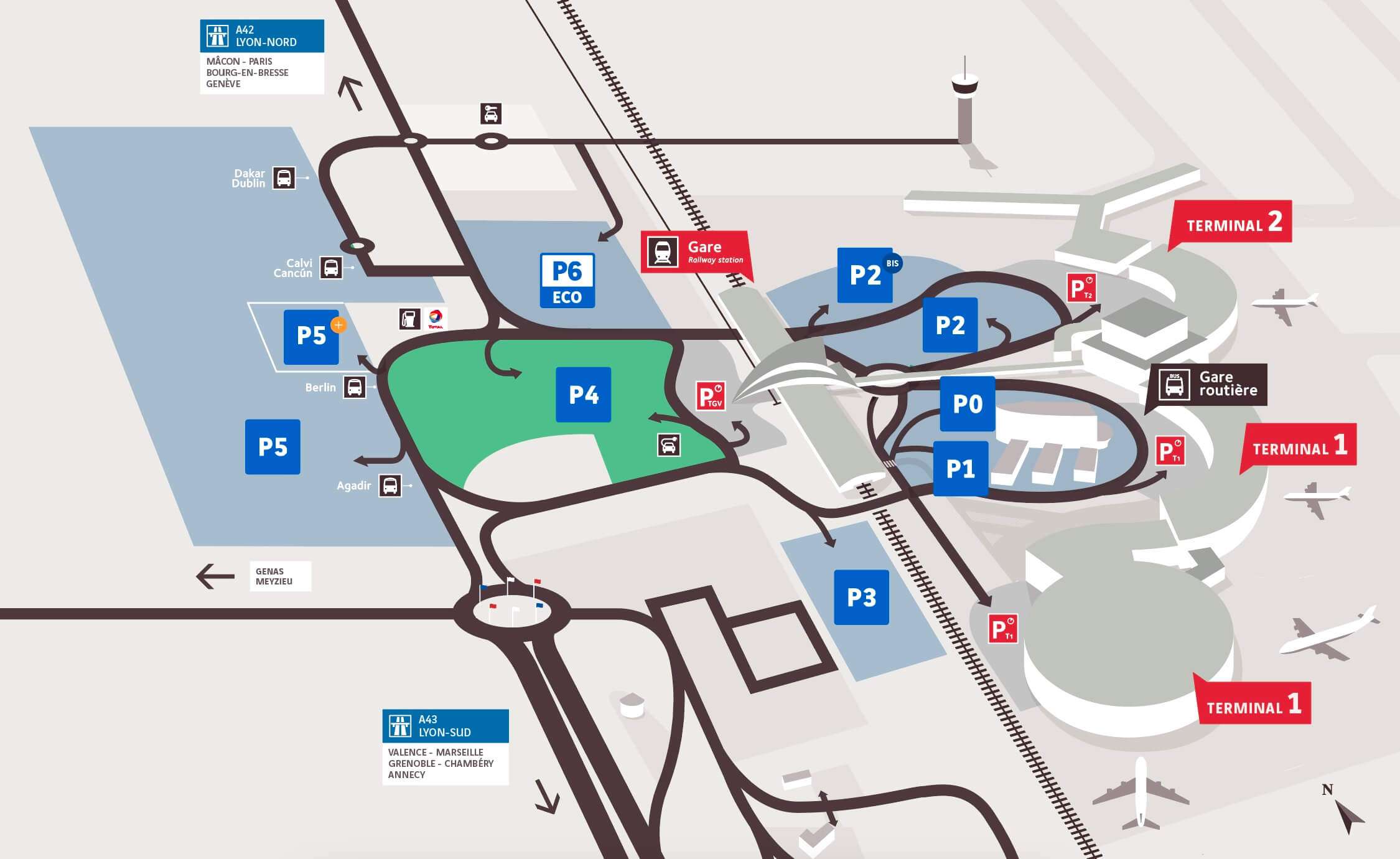 Lyon Airport car park rates
without reservation
To find out the rates for car parks without reservation, download the price list here.

4 (very) good reasons to book your parking online
1
Your space is guaranteed in our car parks
Online booking guarantees you a space on your day of travel, even in very busy periods.
2
Benefit from reduced rates
With online booking, pay less than the on-site price.
3
Your booking is modifiable
Up to 4 hours before your arrival for more flexibility.
4
No additional charge
Flight delayed? We cover the extra parking charge.
How to book a electric P4 parking space online
Never booked a car park at Lyon Airport? You'll see, it's very simple! Just follow the guide.
1) Book your electric P4 parking space online
To get the best rates, book your space as early as you can. Booking is possible 9 months before your departure and up to 4 hours before you park.
Good to know: you can add the references of your number plate during your booking. This will allow you to benefit from the automatic opening of the car park barriers at your entry and exit.
2) Receive your e-ticket by email.
This coupon will be sent to the email address that you indicated when booking your parking. It will also be available in your customer space.
Did you provide your number plate when booking your parking space? For enhanced security, bring your booking coupon - paper or electronic format on your mobile - on the day of your trip.
3) On your arrival at the airport
Follow the signs to the electric P4 car park. The barrier will open automatically if you provided your number plate when you booked. If not, use your QR code on your e-ticket.
Once in the car park, follow the signs to the electric P4 car park. Scan your e-ticket again and park in an available space.
Before leaving, close the electrical terminal cover and check that the terminal light turns purple.
4) When you return from your trip
The procedure will be the same: the barrier will open automatically thanks to your number plate or by scanning your booking coupon.
For more comfort, your booking can be cancelled in your customer account
Cancel your booking on the Electric Parking P4 up to 1 hour before your arrival. You will receive an immediate refund of 100% of the price of your booking.
Discover all car parks
Select your car park and book your space online.