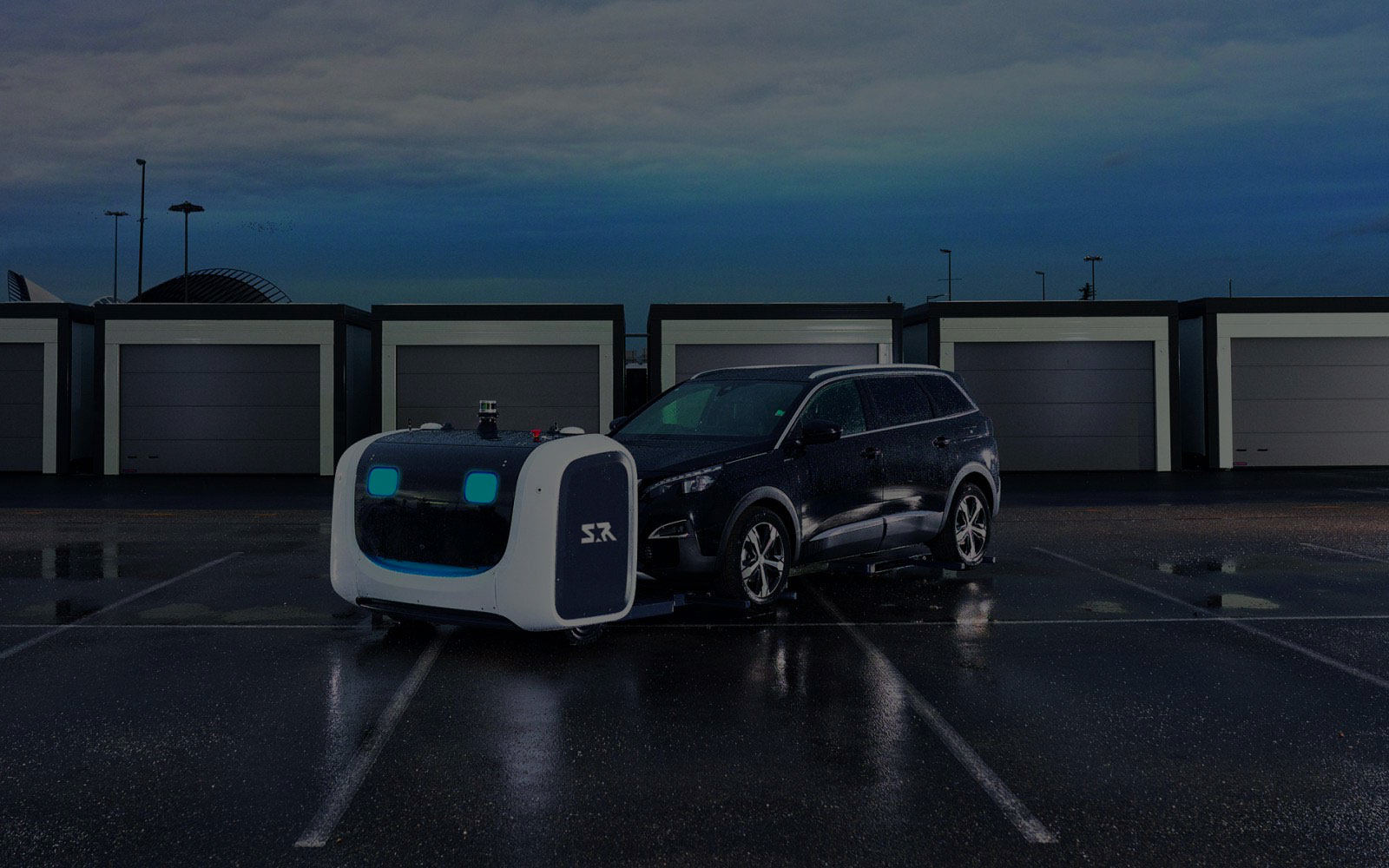 Robotized P5+ car park

at Lyon Airport
Fully automated parking
Recommended for long term parking, starting from 3 days
Free shuttles to the terminals 24/7
Only available for booking
Practical information on Robotized P5+ car park
The fully robotic P5+ allows you to park your car in a lock-up garage close to the shuttle stop. You can take your plane peacefully, our robot takes care of everything! Your car is taken care of by an autonomous robotic platform, then stored in an outdoor space fenced and closed to the public.
When you return, your vehicle is waiting for you ready to leave.

The terminals are quickly and easily accessible with the free shuttle, 24 hours a day, 7 days a week, every 10 to 20 minutes.

The display of the car park in your search results depends on the availability of the service, which is currently open between 8.00 a.m. and 8.00 p.m. from Monday to Friday and from 8.30 a.m. to 3.30 p.m. on Saturdays.
Robotized P5+ car park advantages
1
Time saver
Drop off your vehicle directly in the designated area and then take the shuttle to your terminal.
2
Parking space for everyone
A unique area to drop off and pick up your car. You don't have to drive to find a parking space, and you don't have to remember its location.
3
Secured
Your vehicle is carefully parked in a fenced outdoor area closed to the public. No more risk of collision.
4
Damage prevention
Our system takes pictures of the vehicle when it is picked up and a second time when it is returned.
Innovation
Robotized P5+ car park
Discover in pictures our fully robotized P5+ car park.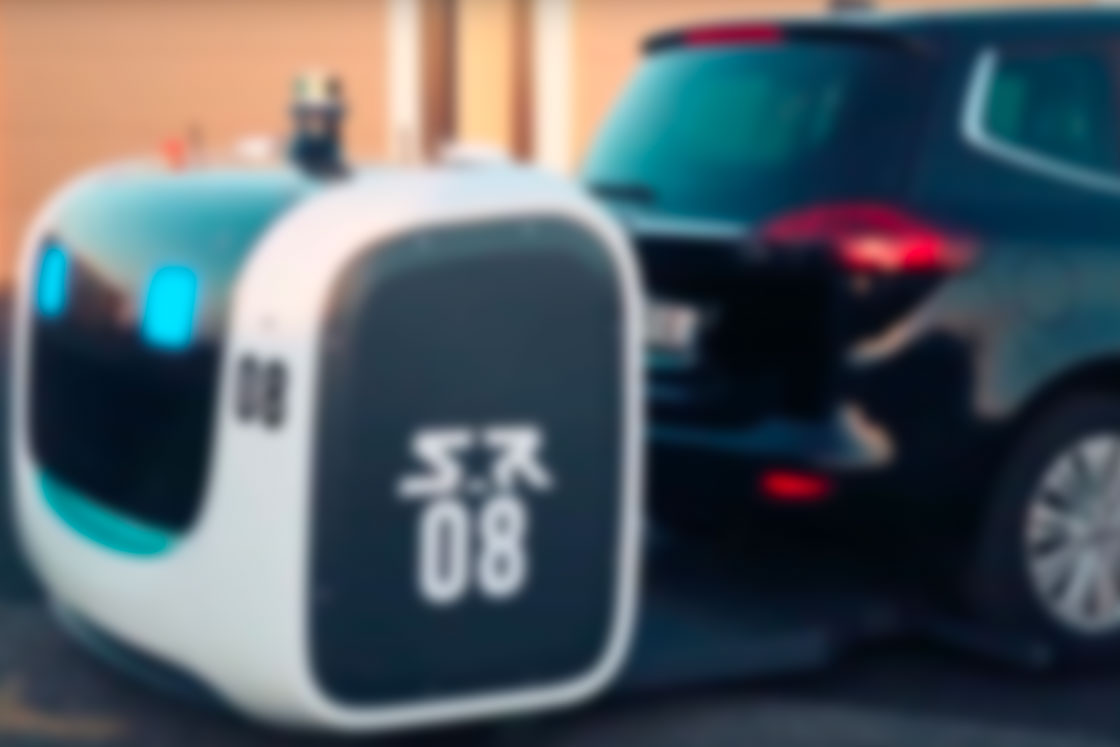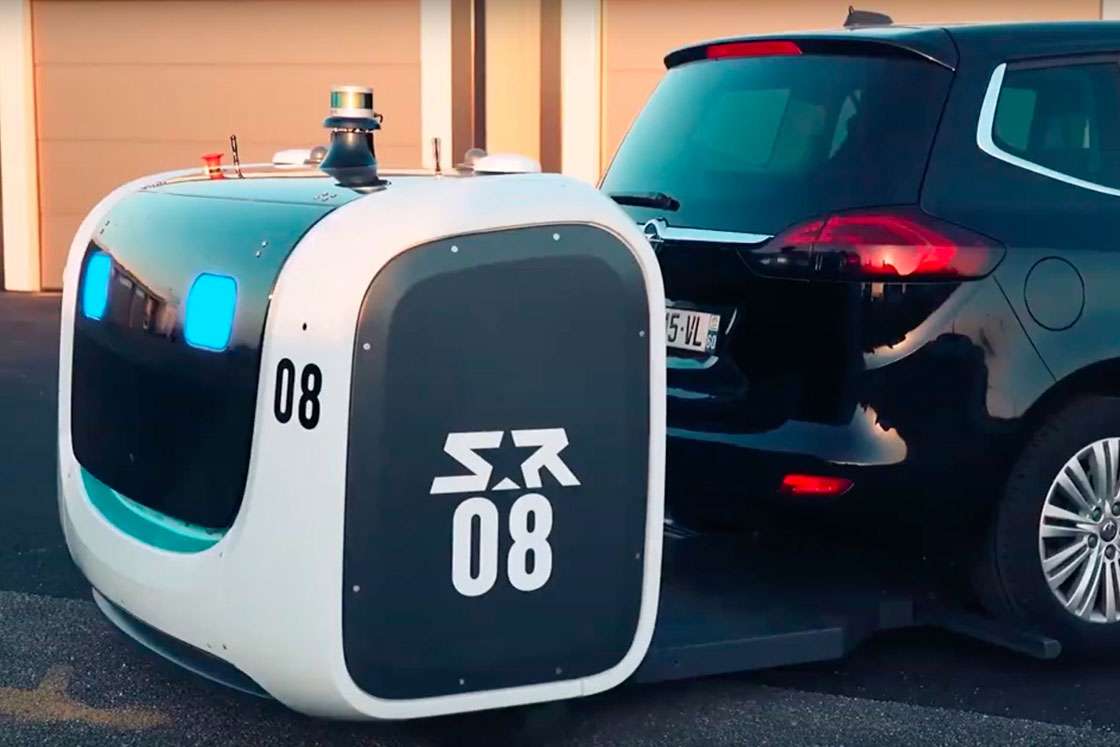 Robotized P5+ car park : How does it work ?
A robotic platform takes care of your vehicle, and returns it to you at the exact time of your return.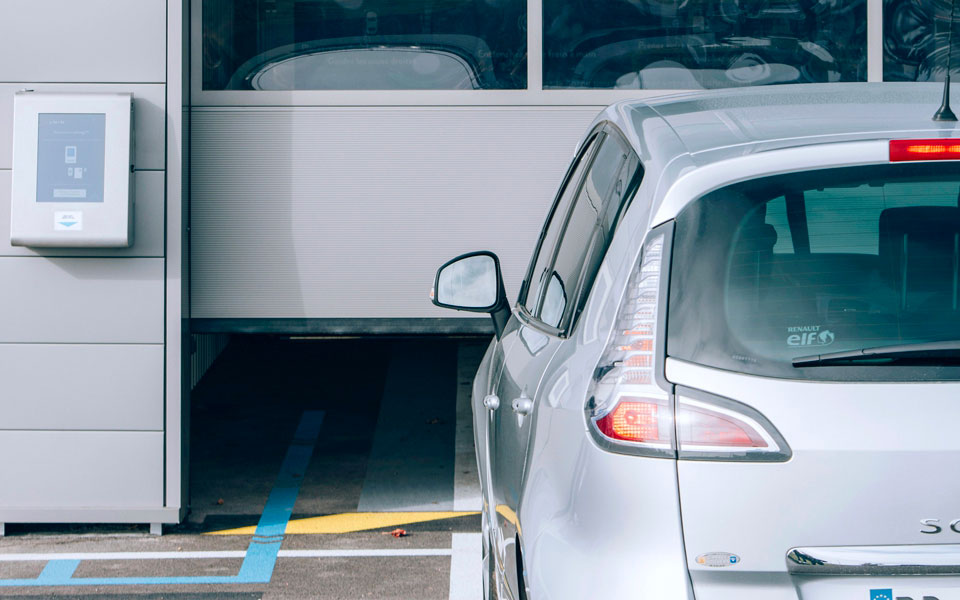 Follow the signs to the robotized P5+ car park and then put your vehicle in front of an available garage to open the door.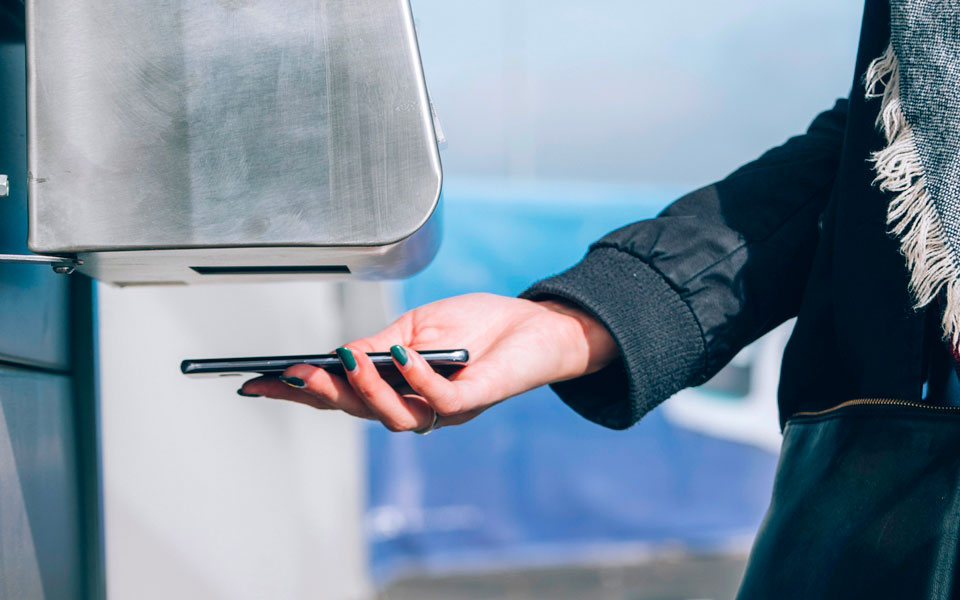 Take your belongings, keep your car keys and confirm your arrival by scanning your reservation on the terminal outside of the garage.
After your trip, your vehicle is waiting for you. All you have to do is scan your e-ticket.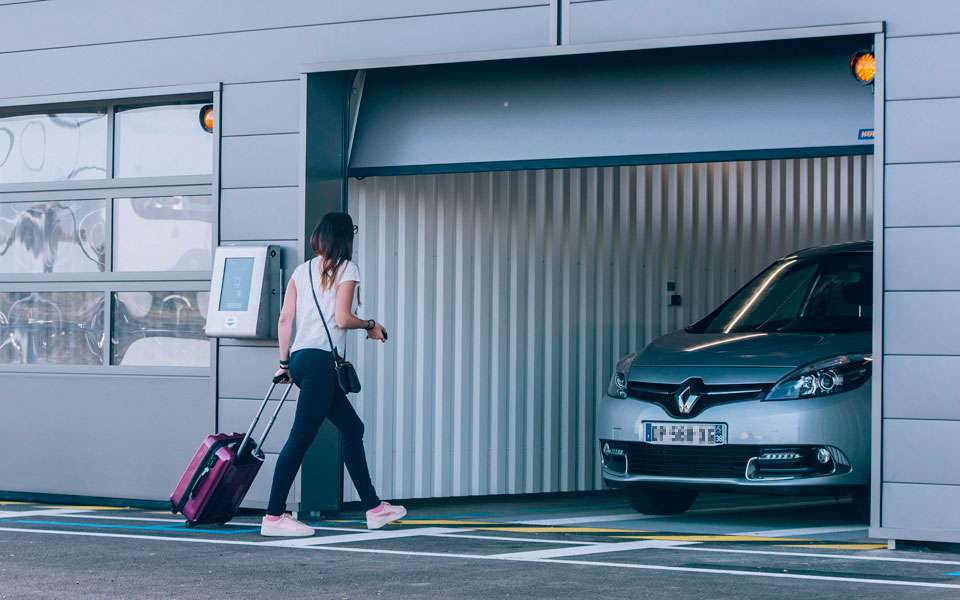 The door opens and you pick up your vehicle.
Vehicles not currently supported
If your vehicle has special features, it may not be supported by the P5+ car park. This concerns :
Vehicles longer than 5m (e.g. pick-up truck).
Very high vehicles (e.g. a SUV with a roof box, a large utility vehicle, a vehicle equipped with a bicycle rack)
Vehicles with a low body height (e.g. sport vehicles)
Vehicles with a wheel diameter greater than 21" (e.g. some high-end SUVs).
Vehicles weighing more than 2.6T (e.g. a loaded commercial vehicle).
Location of Lyon Airport car parks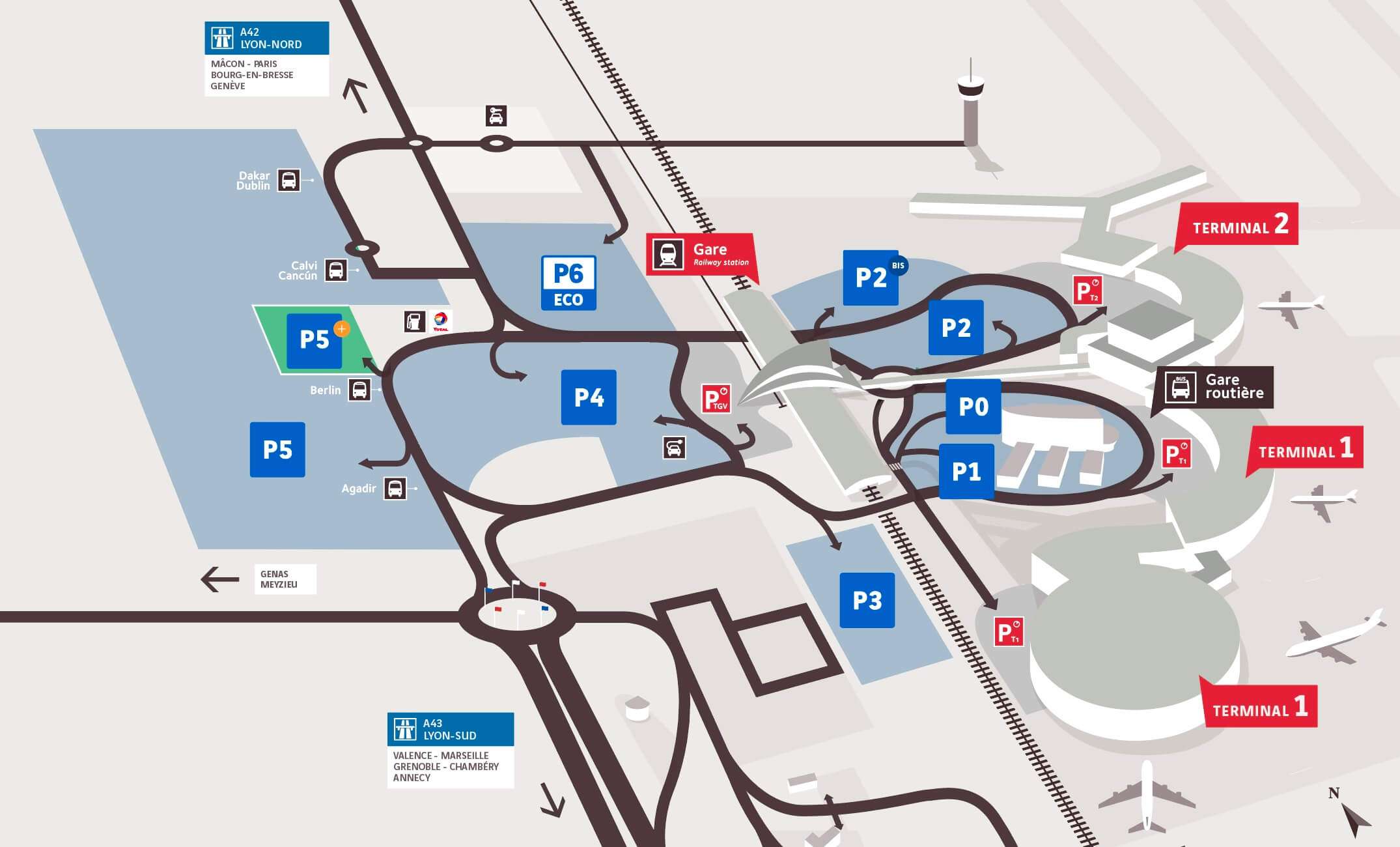 Lyon Airport car park rates
without reservation
To find out the rates for car parks without reservation, download the price list here.

How to book your P5+ parking space online
Never booked a car park at Lyon Airport? You'll see, it's very simple! Just follow the guide.
1) Book your P5+ parking space online
To get the best rates, book your space as early as you can. Booking is possible 9 months before your departure and up to 4 hours before you park.
2) Receive your e-ticket by email
This coupon will be sent to the email address that you indicated when booking your parking. It will also be available in your customer space.
3) When arriving at the airport
On your arrival at the airport, follow the signs to the P5+ car park. Park your vehicle in a box and scan your reservation.
4) When you return from your trip
At the end of your trip, scan your QR code to get your vehicle, ready to leave.
For more comfort, your booking can be cancelled in your customer account
Cancel your booking on the Parking P5+ robotisé up to 1 hour before your arrival. You will receive an immediate refund of 100% of the price of your booking.
Discover all car parks
Select your car park and book your space online.