[Rhônexpress] Due to an industrial action, the Rhônexpress service will be disrupted from December 8 to 11.

More infos

[Information] All flights are operated at Terminal 1 (Terminal 2 is closed)

More infos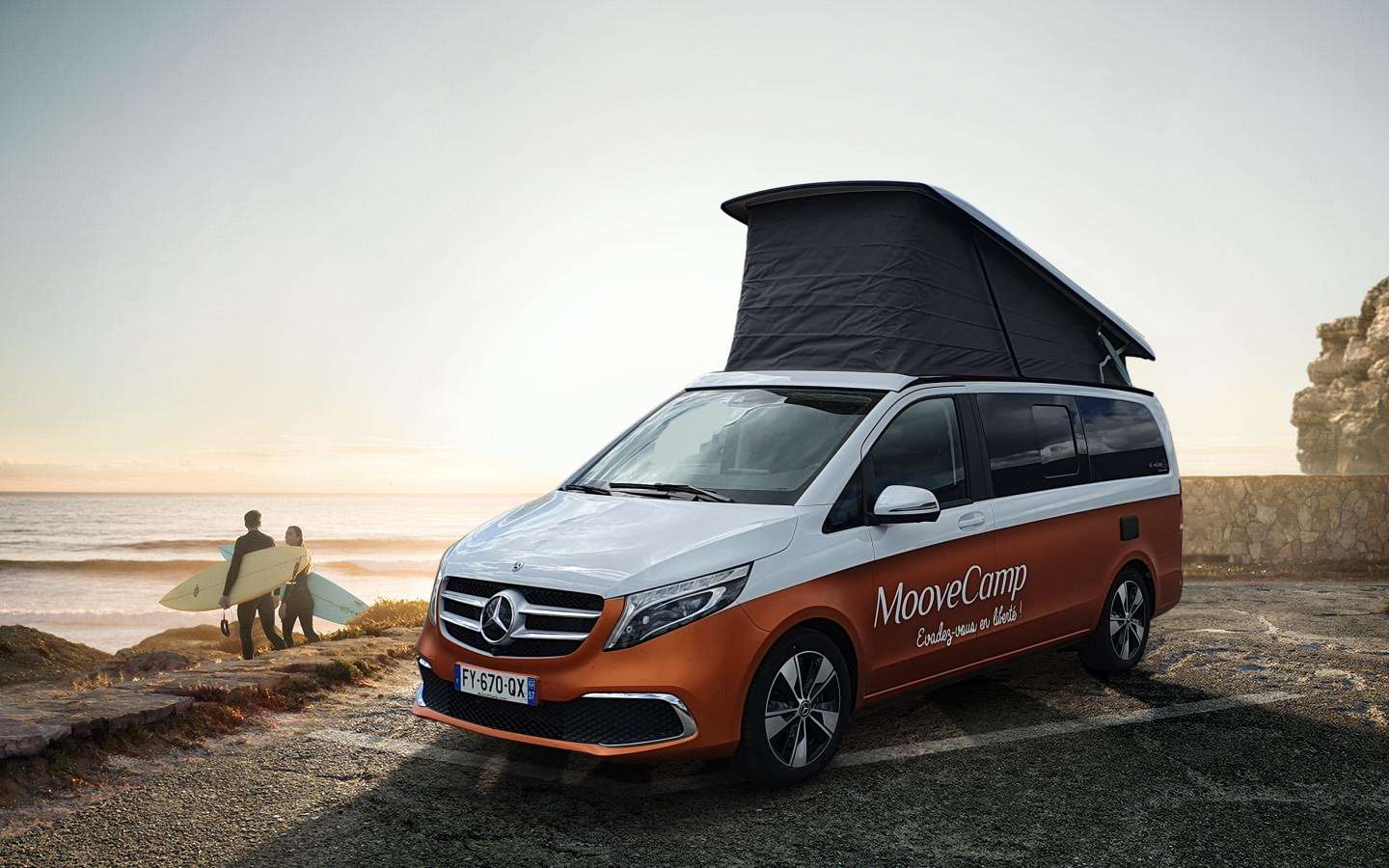 Book your van at Lyon
Moovecamp, the freedom to travel by Mercedes at affordable prices
An alternative way of travelling that combines discovery, leisure and adventure
Plan your dream road trip !
Bye bye routine...hello adventure !
Explore and discover France and Europe across breathtaking landscapes. From the coast to the mountains, through flower-lined villages with quaint stone houses, be free to roam wherever you please. Travel at your own pace, taking restful breaks where the need arises.
The Marco Polo van ? Ideal in all weather conditions !
Having a picnic by the beach, when suddenly it starts raining? Not to worry, head straight into the van for shelter where you can continue to admire the waves breaking on the coastline. And what if it snows? Moovecamp has you covered : you'll stay warm and cosy in your Marco Polo van.

Moovecamp, the comfort we love !
Power steering, automatic transmission, leather upholstery, a multimedia system and GPS... enjoy all the comfort of Mercedes on your trip. The Marco Polo van can accommodate 4 people with 2 double beds. An easy-to-use guide rail system allows flexible use of the space in the rear.

Why book your Moovecamp van online ? ?
By booking from the peace and quiet of your home, you can immerse yourself in your future trip.
4 (very) good reasons to book your van
1
Self-selected or custom itinerary, it's up to you
Plan your trip yourself or request a custom-made tour
2
Recharge your batteries
Set off for an open-air adventure at your pace
3
Book in just a few clicks
Quick and easy to organize. Setting off to discover new horizons has never been so simple !
4
A wide range of options
Choose what suits you !
Let the adventure begin !
Travel through the most scenic routes in France and Europe, at your own pace, in the luxurious comfort of a Mercedes... Do we like it? We love it !


Frequently asked questions
All the answers to our customers' frequently asked questions
What equipment is provided ?
In addition to the standard equipment for Moovecamp vans, the following is provided : a table and 4 chairs to sit out in the fresh air, all kitchen utensils, an emergency kit, undersheets, a dustpan, a fire extinguisher, a first-aid kit and a road safety kit (warning triangle and hi-vis vests). All this equipment is included in the rental price. Other equipment is available as an option for greater comfort.
Is the kitchen area well equipped ?
Yes ! The kitchen is equipped with two hotplates, a sink, a 30L fridge, sufficient cutlery for all passengers: plates, glasses, knives, forks, soup spoons, coffee spoons, mugs, a saucepan, a frying pan and the necessary cooking utensils.
What berth is the Marco Polo van ?
The Marco Polo van has a pop-up roof : 1 mezzanine bed for 2 people and the two seats can be converted into a 2-berth comfort bunk (3 seat option on request). For additional space and comfort, take the optional "tailgate tent" or "2-person igloo tent".
What is the procedure on the day you leave the airport ?
Once you've made your booking, Moovecamp will contact you to arrange a meeting place and time directly at the airport so that you can pick up your Marco Polo van.
What are the conditions for hiring and driving a van ?
The customer is automatically the main driver. You must be over 21 years of age and hold a valid driving licence for over 2 years; you must have a valid licence category for the type of vehicle hired (B licence in France) and a licence issued by a European Union country. Additional drivers may be added using the "Additional drivers" option.
How much storage space is there in a camper van ?
Camper vans have enough storage space for everything you'll need for your holidays. The vehicle is optimised to include all types of storage space such as cupboards, drawers and a wardrobe. However, to optimise your travel experience, when you pick up your van, we advise you to store your belongings inside the van but leave your suitcase directly in your vehicle: this will give you more space to fully enjoy your Moovecamp van. For those of you who want to take their entire wardrobe with them, there is an optional "roof box" and "seat back storage organiser".
About the power supply in a camper van
The vans have a 12-volt power supply and 220 volts for backup supply. There are several USB ports to charge your smartphones and electronic devices. Be careful not to drain the battery of your Moovecamp van.
Is the Marco Polo van heated ?
Moovecamp vans are equipped as standard with a stand-alone stationary heater that operates independently of the engine. This heating is essential for cold nights in the winter or other seasons.